Many manufacturers have overlooked expansion for immunity-boosting products. Over the last five years, new launches of products with immunity claims have been limited. This is particularly true for the food and drink categories. There may be unaddressed consumer needs and opportunities for innovation and new product offerings for health-promoting products. As consumer interest in stronger immunity grows, they will look for products that are positioned to support those needs.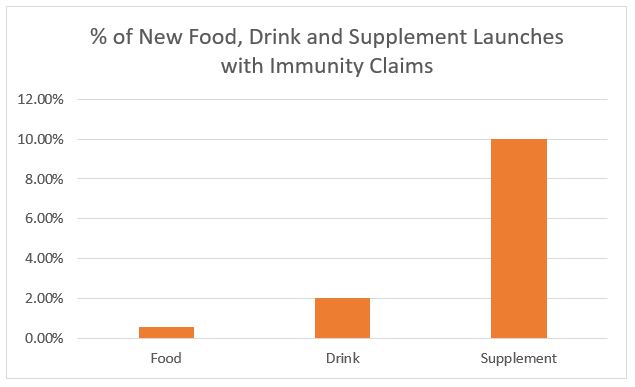 Start with the Right Nutrients
Proper nutrition is one of the foundations of a strong and healthy immune system. Consumers want to protect themselves against infection, and they look for convenient ways to add additional nutrients to their diets. According to Mintel GNPD, 63% of the new food, drink, and healthcare launches with immunity claims (April 2014 – March 2019) contained micronutrients.
The Top Micronutrients included in Immune-Boosting Products (source Mintel GNPD)
Vitamin C, vitamin D, and vitamin B6 were the leading nutrients found in new product launches with immune system claims during the period defined above.  Vitamin C was by far the most popular with 38% of new product launches in the immune category containing vitamin C.  The chart below shows the percentage of new product launches containing each of the top seven nutrients.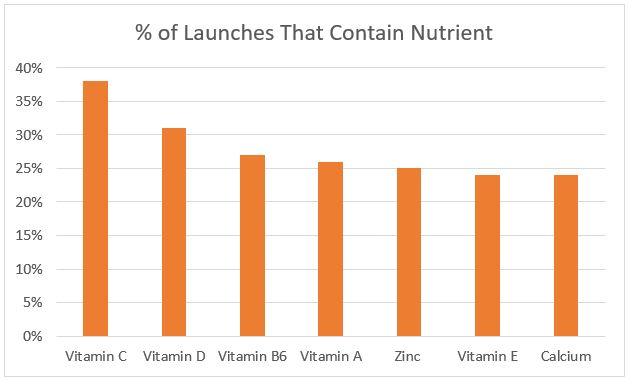 Vitamin C
Vitamin C is crucial to immune functioning, and it is involved in antibody production and white blood cell function and activity. Some other infections include the creation of antiviral and anticancer substances. Taking vitamin C has been known to shorten the length of the common cold or the flu and help to prevent infections. Vitamin C requirements increase when our immune systems are under stress.
Vitamin D
Vitamin D is involved in the regulation of the immune system; it has several functions, including effects on white blood cells called monocytes and lymphocytes, and seems to suppress the function of several parts of the immune system.
Vitamin B6
Vitamin B6 is a family of chemically-related compounds, including pyridoxamine and pyridoxal which, are found in animal products and pyridoxine, which is found in plants and fortified foods and supplements. Vitamin B6 is used in various aspects of the body, such as the metabolism, the cardiovascular system, the immune system, hormones, and hormone development and the nervous system.
Vitamin A
Nicknamed "the anti-infective vitamin," vitamin A plays an essential role in protecting the body from infection. It helps keep body surfaces healthy so they function as barriers to any possible invading micro-organisms. Vitamin A stimulates and enhances many of our immune functions, including antibody responses and the activity of white blood cells such as T-helper cells and phagocytes. The immune-enhancing properties of vitamin A promote the healing of infected tissues and increase resistance to infection.
Zinc
Zinc is an essential trace mineral found in the body that is used for multiple health roles. It was dubbed essential in 1934 when scientists found it in virtually every tissue and tissue fluid in the body. The functions of zinc include immunity because of its antioxidant properties, brain development, and reproduction.
Vitamin E
Vitamin E is essential for the maintenance of a healthy immune system. It helps the immune system by protecting the thymus gland and circulating white blood cells from damage. This vitamin is particularly important in protecting the immune system from damage during times of oxidative stress and chronic illness.
Calcium
Calcium is one of the most abundant minerals in the human body. Ninety-nine percent of the body's calcium is stored within the teeth and bones. The remaining one percent is found within the blood lymph and other body fluids within the cells. The functions calcium provides for the body are so crucial to survival that the body may begin to demineralize bone to maintain calcium levels.
Functional Ways to Appeal to Consumers Looking for Health Benefits
An easy way to upgrade a food or beverage to functional food is through a custom nutrient premix. First, a manufacturer chooses the functional ingredient or blend of ingredients that will address a specific, in-demand consumer need, along with the amount that will deliver the best effect. 
Then, a custom nutrient premix is formulated from these ingredients, with adjustments made for uniform particle size (through milling or agglomeration) and a minimal taste and odor impact (through microencapsulation). Contact Glanbia Nutritionals for insights on the in-demand health-promoting ingredients that can help you meet the consumer demand for immune support.