The active lifestyle market in Asia looks promising. 51% of Chinese consumers consider themselves to be a 'sports/exercise lover', and 45% of Chinese consumers see a healthy lifestyle as a priority in their lives. Sports nutrition brands can stay optimistic with regards to the future of the market, as it presents lucrative opportunities.
With this in view, experts from Glanbia Nutritionals and industry shared important insights on the trends driving the healthy snacking, protein, functional beverage markets, data on protein benefits and brand case studies that can inspire customers to creating next blockbuster product. 
See what our experts said at the seminar: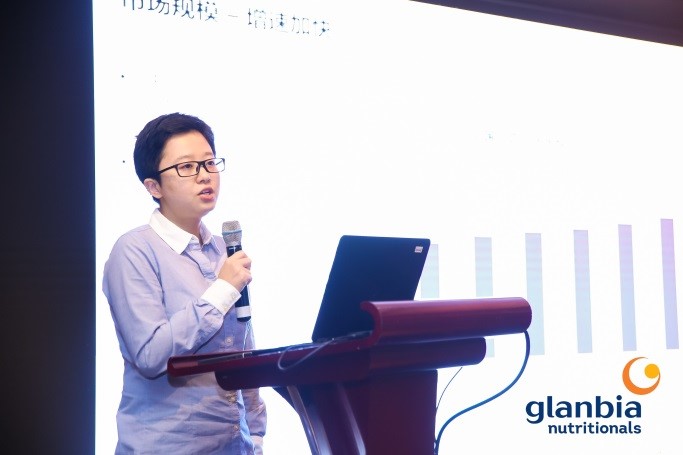 Healthy Snacking Trends
1. Snack being "staple" - 8% of consumers surveyed in 2018 said they would replace meals with snacks; this percentage rises to 22% in 2019.
2. Texture overtaking flavour- 63% of respondents would purchase Internet celebrity snacks with rich taste and texture. Innovative product texture can better meet modern consumer's pursuit of experiential consumption. Silky and crispy or chewy texture is favored by consumers in many categories.
3. Knowledge-based consumption"- 84% of consumers surveyed said that they would be willing to spend time looking for brands that could offer products suitable for them before purchasing high-end food and beverage products.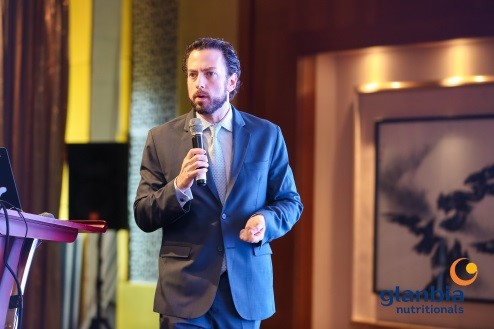 Protein Snacking-Delivering Better Nutrition for On-the-go Consumers
1. The desire for protein has continued to grow over the past 12 years, 43% of consumers would like to get more protein in their diet. Whey protein continues to be the top supplement used for sports/exercise
2. Trends in food & beverage innovation - Convenience; Protein fortification; Ultra-personalization
3. Global Healthy Snacks to reach $32.8 Billion by 2025, Glanbia's summary of the opportunity as below:
Addressable markets for high protein snacks is growing due to shifting consumer and channel dynamics
Consumers demand healthier products with simple ingredients they can understand
Protein is a very consumer friendly macronutrient (unlike sugar) and people look for it on labels
Niche products containing protein have crossed over to mainstream consumers
Glanbia's BarFlex Whey protein, BarPro milk protein are ideal solutions for protein snacking.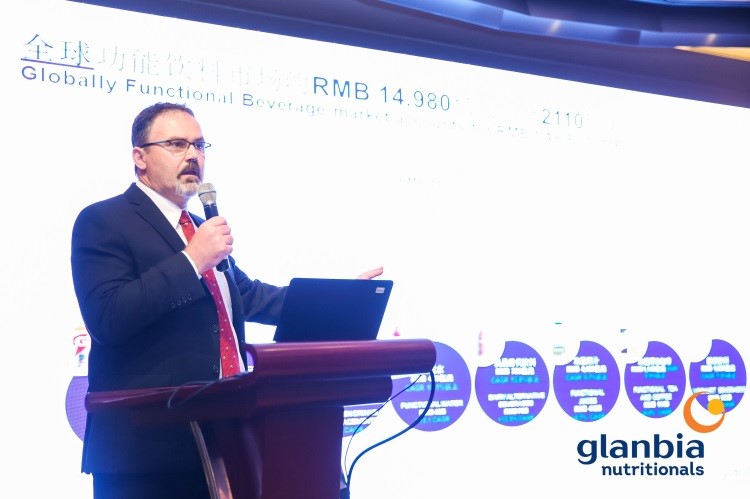 Active Lifestyle Consumers & Market Potential of RTDs In China
1.In China - Functional Beverage Market is RMB 117.3B (USD 18.1B). Energy Drinks Is By Far The Largest Category. But Meal Replacement And Supplement Drinks (RTD Lifestyle) Are Expected To Grow 2x Faster
2. Opportunities In Functional Beverages In China
1) Using cross-category innovation to stand out in a crowded category
2) The impact of 'Guochao' on China's drink market
3) The Healthy Aging Population
3. Opportunities In Sports Nutrition Drinks In Asia
1) Ambient temperatures are preferred- 73% of Chinese sports participants prefer ambient temperatures for their ideal sports nutrition product, while 40% prefer warm and 19% prefer chilled
2) Communicate the health benefits of vitamins- 53%of Chinese sports participants indicate vitamin content is most important when choosing a sports nutrition product
3) Increase health awareness among consumers- 51%of Chinese consumers consider themselves to be a 'sports/exercise lover'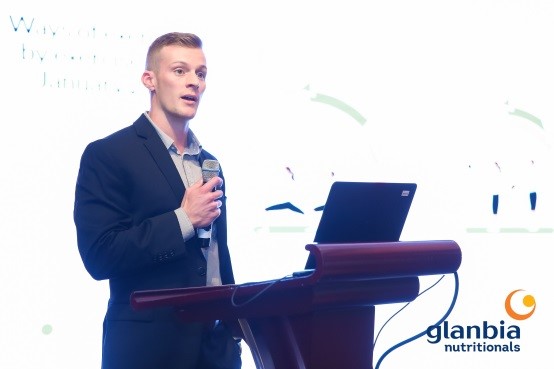 Protein and Bioactives for an Active Lifestyle
1. Chinese consumers want better bodies
76% consumers have developed habit of doing sports and fitness. 42% Chinese women cite losing weight/fat as main motivation for sports and fitness
2. Chinese consumers connect protein with purpose other than building more muscle
3. Dairy Companies have advantages to penetrate into the lifestyle nutrition market- 41% of sports/exercise participants would like to replenish protein during, before or after doing sports/exercise
4. Famous brand like Bright Dairy, Mengniu, By-Health launched new products targeting at females.
5. Glanbia has serious of dairy-based protein and Bioactives solutions including Provon WPI, Protherma heat stable hydrolyzed whey protein and PepForm® Peptide Carrier Technology for variety applications.
Opportunities and challenges of China's sports nutrition market under the national fitness tide
1. From 2013 to 2018, the global sports nutrition market grew at an average annual rate of 12% to reach US$ 15.7 billion. It is expected to maintain a high speed of 10.6% in the next five years and to reach US$ 26 billion in 2023. Powder form is the main category of sports nutrition products, accounting for up to 45%; bars, gum-based candy and snacks rank second and third, respectively. Milk protein remains dominant.
2. The new consumer group that pursues a healthy lifestyle has a large base, and its habit cultivation and excavation will create the largest market incremental space in the future. The overall characteristics of the Chinese sports population: young people with higher educational levels, most of which are the white-collar workers with stable income. The functional demands of professional sports population to nutritional products varies in stages before, during and after the sports.
3. The domestic sports nutrition market presents three characteristics as a whole - single category, and rapid development of the three giants including Competitor, GymMax and Muscletech as well as the e-commerce environment.
4. The development of local brands needs to: seek the pain points of consumption, meet the core demands; pay attention to a combination of the online and the offline, and leverage social media to segment consumer scenes.
5. Product innovation needs to grasp the core status of protein, focus on diversified product forms, and gather potential population in the future: women, children and the elderly, to develop different consumption scenes.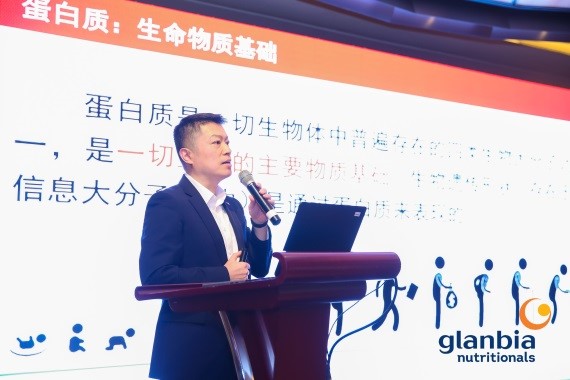 Whey Protein – Essential fuel for your body
Protein is one of the four kinds of biomacromolecules that are ubiquitous in all organisms and is the main building blocks of life. The biogenetic character (present in the informational macromolecule DNA) is expressed by proteins.
1. Whey protein is a source of high quality essential amino acids and rich branched chain amino acids
2. Whey protein has good digestion and absorption kinetics characteristics
3. Whey protein has excellent application functionality
4. Whey protein promotes the healthy upgrades of sports foods and healthy aging foods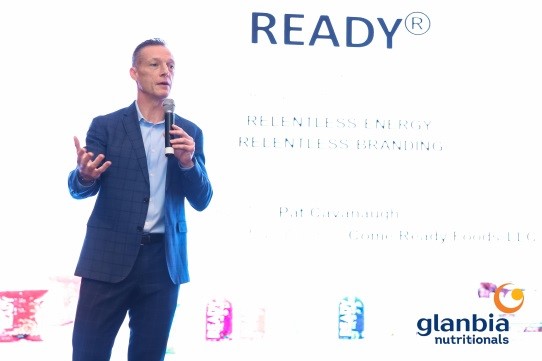 Ready Nutrition Brand Story 
Never Ceasing; Persistent; Never Declining in Intensity or Strength
1. Mentality Behind the Brand & Why
2. How Mentality is Worked Into the Branding
3. How it Appeals to Targeted Consumers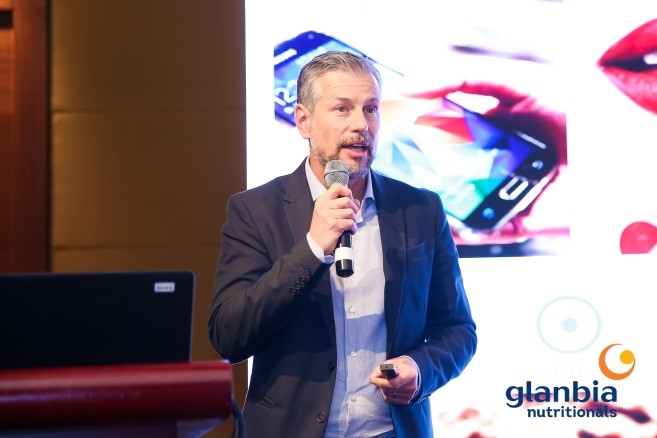 Extruded Whey Protein Crisps in the context of future of food and how to nourish 10 bn people within the limits of our planet
1. Bühler provides solutions for sustainable food value chains- Harnessing science & technology for efficiency & sustainability
2. Protein gap: 50% protein production increase necessary until 2050.
3. Bühler Protein Solutions- Be the knowledge house in processing proteins commercializing science & technology across the value chain. Our aim is to provide best in class process solutions for nutritious and sustainable plant-based food, feed and beverages.
To learn more information on the topics, stay focus with Glanbia. To request presentations or info of prototypes, contact us.