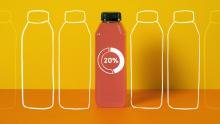 Feature Video
Protein: it's our thing.
Our wide range of dairy-based, plant-based and functional proteins offer excellent nutritional value and superior functional properties—like flavor, solubility and heat stability.
Our dairy-based proteins have the same ratio of micellar casein and whey protein naturally found in milk, but in process-stable, better-tasting and easier-to-use powder formats.
Avonlac® Whey Protein Concentrates
Whey protein concentrates (WPCs) that offer excellent nutritional value and have a pleasant, creamy flavor. They're completely soluble across a wide pH range, and are available straight or instantized with protein content from 34% to 80%. Avonlac® is an excellent protein fortification option for early life nutrition, dairy products, dry mixes, powder drink  mixes and bakery products.
Provon® Whey Protein Isolates
Highly pure whey protein isolates (WPIs) with very low levels of fat and lactose, containing the full spectrum of undenatured proteins naturally found in whey. With a neutral flavor, it is soluble in a wide pH range and available straight or instantized with protein content of 90%. Truly Grass Fed™ options available. Excellent protein fortification option for powder drink mixes, bars, dairy/frozen desserts and dry mixes.
Truly Grass Fed™ Proteins
In partnership with our Irish sister company, Glanbia Ireland, the Truly Grass Fed brand offers customers a fully traceable and third party accredited grass fed WPI, MPC and MPI under our Provon®, Solmiko® and BarPro® protein solutions. The Truly Grass Fed brand carries a promise with the Truly Grass Fed seal, a seal which signifies many things including 1) Cows grazed on grass lands for an average of 250 days a year 2)  Cows receiving 95% of their nutritional feed from grass 3)  Non-GMO Project Verified.
Contact us
We're built to help solve your next nutrition challenge. Send us your request to see how our expertise can add to your products and business.
Proteins Featured Content