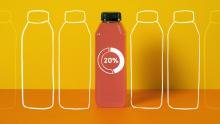 Feature Video
Protein: it's our thing.
Our wide range of dairy-based, plant-based and functional proteins offer excellent nutritional value and superior functional properties—like flavour, solubility and heat stability.
From extending shelf life, to improving flavour, texture and nutrition, our Functional Protein Solutions can improve the overall quality of a wide range of products.
BarFlex® Whey Proteins
Whey protein isolates (WPIs) and concentrates (WPCs) that enable 100% whey formulations, minimize bar hardening and extends the shelf life of nutritional bars. It's an excellent source of high-quality protein that gives bars a clean flavour and a long-lasting, chewy texture.
BarHarvest™ Plant Proteins
Plant protein-based systems (non-soy) designed to deliver protein fortification in emerging plant-based bar, cereal, and snack applications without negatively impacting texture or shelf life. Delivers a variety of textures while minimizing the dryness, brittleness and hardness over shelf life commonly associated with plant proteins.
Our BarHarvest Pea Protein Series are functionally designed to allow for high levels of protein fortification without compromising taste and texture in bars, snacks and baked goods. 
BarPro® Milk Proteins
Milk protein concentrates and isolates (MPC's & MPI's) designed to extend the shelf life of nutrition bars and minimize bar hardening. Truly Grass Fed™ option available. They're an excellent source of high-quality protein with a short texture and a clean flavour profile.
Our BarPro 100 series was specifically designed and optimized for extrusion, delivering a range of exceptional starch-like textures without the inclusion of high quantities of starch making it ideal for use in extrusion. 
BevWise® Protein Systems
Protein fortification ingredient systems specifically for use in aseptic and hotfill processing, providing exceptional nutritional attributes and functional benefits to high acid beverages. Benefits include superior clarity, less astringency, improved processing with better dispersion, and reduced processing time/costs.
Crunchie™ Milk Protein Crisps
Ideal for bar and snack inclusions, delivering exceptional texture and a hearty crunch to a product throughout shelf life, creating a delightful eating experience. Clean dairy flavour requiring no masking. Visually appealing with consistent shape, size and light colour appearance. Contains greater than 74% high quality milk protein for an extra protein boost 
OptiSol® 1000 Series
A range of functional dairy protein ingredients that improve product processing and flavour, enhance creaminess and texture and support clean label initiatives. rBST free and Grade A options available. Our OptiSol 1005 and 1007 are advanced whey protein concentrates that allow for increased protein levels in high heat processed applications.
ProTherma®
An agglomerated hydrolysed whey protein designed for use in hot ready-to-mix powdered beverage and food applications. ProTherma protein is heat stable, soluble and high in protein. An excellent solution for ready-to-mix hot coffees, teas, cocoas, malts, soups, oatmeals, coffee creamers and coffee pods.
Contact us
We're built to help solve your next nutrition challenge. Send us your request to see how our expertise can add to your products and business.