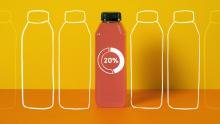 Feature Video
Protein: it's our thing.
Our wide range of dairy-based, plant-based and functional proteins offer excellent nutritional value and superior functional properties—like flavor, solubility and heat stability.
BarHarvest™ Pea Protein
BarHarvest Pea Protein provides protein fortification, and is an allergen-free, gluten-free, kosher protein ingredient that delivers excellent performance. BarHarvest is designed to improve the shelf life, moisture and soft texture of bars, cookies and other baked goods.
HarvestPro® Proteins
HarvestPro Proteins are allergen free, gluten-free and kosher protein ingredients that deliver excellent protein and performance in beverages, creamy foods, snacks, baked products and prepared foods.
Contact us
We're built to help solve your next nutrition challenge. Send us your request to see how our expertise can add to your products and business.