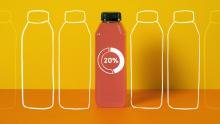 Feature Video
Protein: it's our thing.
Our wide range of dairy and functional proteins offer superior functional properties—like flavour, solubility and heat stability—and excellent nutritional support for muscle building and recovery.
Our dairy-based proteins have the same ratio of micellar casein and whey protein naturally found in milk, but in process-stable, better-tasting and easier-to-use powder formats.
Avonlac® Whey Protein Concentrates
Whey protein concentrates (WPCs) that offer excellent nutritional value and have a pleasant, creamy flavour. They're completely soluble across a wide pH range, and are available straight or instantized with protein content from 34% to 80%. Avonlac® is an excellent protein fortification option for early life nutrition, dairy products, dry mixes, powder drink mixes and bakery products.
Solmiko® Milk Proteins
Milk protein concentrates (MPCs) and milk protein isolates (MPIs) that are excellent sources of native casein and whey proteins. They offer superior flavour, solubility and heat stability and are an ideal solution for neutral pH and other applications where low micro counts, functionality and flavour are critical. Truly Grass Fed™ options available. Ideal for powder drink mixes, ready-to-drink beverages, bars and fresh dairy products.
Contact us
We're built to help solve your next nutrition challenge. Send us your request to see how our expertise can add to your products and business.
Proteins Featured Content