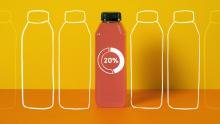 Feature Video
Protein: it's our thing.
Our wide range of dairy-based, plant-based and functional proteins offer excellent nutritional value and superior functional properties—like flavor, solubility and heat stability.
BarHarvest™ Pea Protein
BarHarvest Pea Protein is designed to improve the shelf life, moisture and soft texture of cereal and protein bars, cookies, and baked goods. Delivering a variety of solutions while minimizing the dryness, brittleness and hardness over shelf life commonly associated with plant proteins.
BevChia™ Protein
BevChia Protein is an all-natural, chia protein concentrate featuring 30% protein, ALA omega-3 and 42% fiber. It's non-GMO, hormone-free and gluten-free. Heat treatment with MicroSure™ Plus technology affords additional food safety and guarantees shelf stability for two years. BevChia Protein is an excellent solution for beverages, bars, bakery and gluten-free foods.
HarvestPro™ Pea Proteins
Provides 75-85% protein. Available straight or with EasyFlav™ clean flavor technology which ensures a neutral taste profile. Allergen free, gluten free, kosher, and provides a vegetarian source of protein. Organic available.