Successful and responsible go hand in hand.
Glanbia Nutritionals has a steadfast focus on our responsibilities to our people, our society, our supply chain, and our world.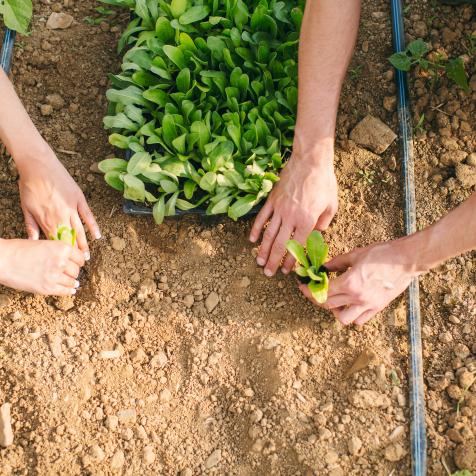 From how we source our raw ingredients, address the challenges and opportunities around waste, water, carbon emissions and value chain sustainability, to how we deliver nutritional solutions that make a difference to society – our team is committed to living the Glanbia values. 
Our success in these endeavors is ultimately determined by our capacity to innovate, our strong partnerships with customers and suppliers, and our engaged and talented employees. Together we're committed to making sustainability a key factor in making Glanbia Nutritionals one of the world's top performing nutritional solution companies. 
Our Sustainability Vision
We are a responsible business generating economic, environmental and social value. Our ambition is to embed sustainability in our strategy, creating long-term shared value for all stakeholders.
Sustainability Strategy
To advance our purpose and vision through an integrated and phased sustainability program, which will strengthen our business for the future.
Bringing Our Values to Life through Four Pillars

Our People
| Indicator | Target 2020 | Leadership |
| --- | --- | --- |
| People engagement | 100% of employees | Suzhou (China) Best Employer Award |
| Training to embed the Glanbia values | 100% of employees | Several hundred people attended leadership and development programs. Values training for Watson employees |
Our Society
| Indicator | Target 2020 | Leadership |
| --- | --- | --- |
| Employment | Creation of sustainable employment | Over 2,600 Glanbia Nutritionals employees worldwide |
| Employee well being | The provision of standardized Health and Wellness programs for employees | Employee engagement score of 72% in line with international peers |
| Corporate responsibility – sustainable nutrition | To leverage our extensive market insights and nutrition expertise into a defined, broader nutrition in society program | Innovation in cheese ingredient technology to reduce salts and sodium levels in barrel cheese, while increasing calcium levels |
| Community engagement | Community partnerships focused on health | Glanbia Nutritionals continued to support local communities - the 25th Annual GN Charity Golf Tournament in Twin Falls, Idaho raised $215,000 for local charities, bringing the total amount raised to US $2.5 million since 2003 |
Our Supply Chain
Indicator
Target 2020
Leadership
Food quality and safety
Mitigate potential risks in our supply chain – via Glanbia Risk Management System
 
Responsible sourcing
Ensure all suppliers adhere to the Group procurement policy and Code of Conduct
52% of Idaho milk producers completed the Environmental Stewardship assessment in 2019
US dairy farm sustainability
Drive continuous improvement through US FARM animal welfare and Environmental Stewardship programs
52% of Idaho suppliers completed FARM ES assessment.
Adopted the US Dairy Stewardship Commitment (Innovation Center for US Dairy Initiative)
Non-dairy ingredients/product sustainability
Development of sustainability metrics to address material issues
 
Our World
| Indicator | Target 2020 | Leadership |
| --- | --- | --- |
| Operational energy efficiency & carbon mitigation | Develop action plan to lower carbon impact, in association with the Carbon Trust | Sioux Falls and Watson facilities 100% powered by renewable energy |
| Water conservation and water quality management | 8% reduction of water use throughout Glanbia plc | Glanbia plc has reduced water usage by 19% since 2015 |
Case Study: Sustainable Dairy Supply
In 2019 Glanbia Nutritionals, adopted the US Dairy Stewardship Commitment which allows US dairy to document and demonstrate progress in material sustainability areas. By signing the Commitment, Glanbia has agreed to follow a rigorous set of standards to demonstrate positive impact. 
Glanbia also participates in the US Farmers Assuring Responsible Management (FARM) program which demonstrates to customers and consumers that the dairy industry is committed to taking the best care of animals, the environment, producing safe, wholesome nutrition and adhering to the highest standards of workforce development.
Glanbia has supported FARM since its inception when the primary focus was animal welfare.  It now includes Environmental Stewardship (FARM ES) - a model that calculates the dairy industry carbon and energy footprint. FARM ES gives farmers the tools to track progress, identify potential efficiency gains and assess against best in class local and national performance. Over 52% of Idaho suppliers completed a FARM ES assessment in 2019.
Case Study: Sioux Falls Facility 100% Powered By Renewable Energy
Glanbia Nutritionals is enrolled in the Sioux Valley Energy's Renewable Energy Credit program. Sioux Valley Energy is the power provider of our Sioux Falls, South Dakota seed processing facility. By participating in this program, Glanbia Nutritionals supports current and future renewable energy projects in the region of the Midwest where our plant is located.