Functional Beverage Ingredients Manufacturer
Consumers are demanding value-packed, flavorful & high-quality drinks & mixes.  Learn how Glanbia can help you meet those demands. 
Functional Beverage Ingredients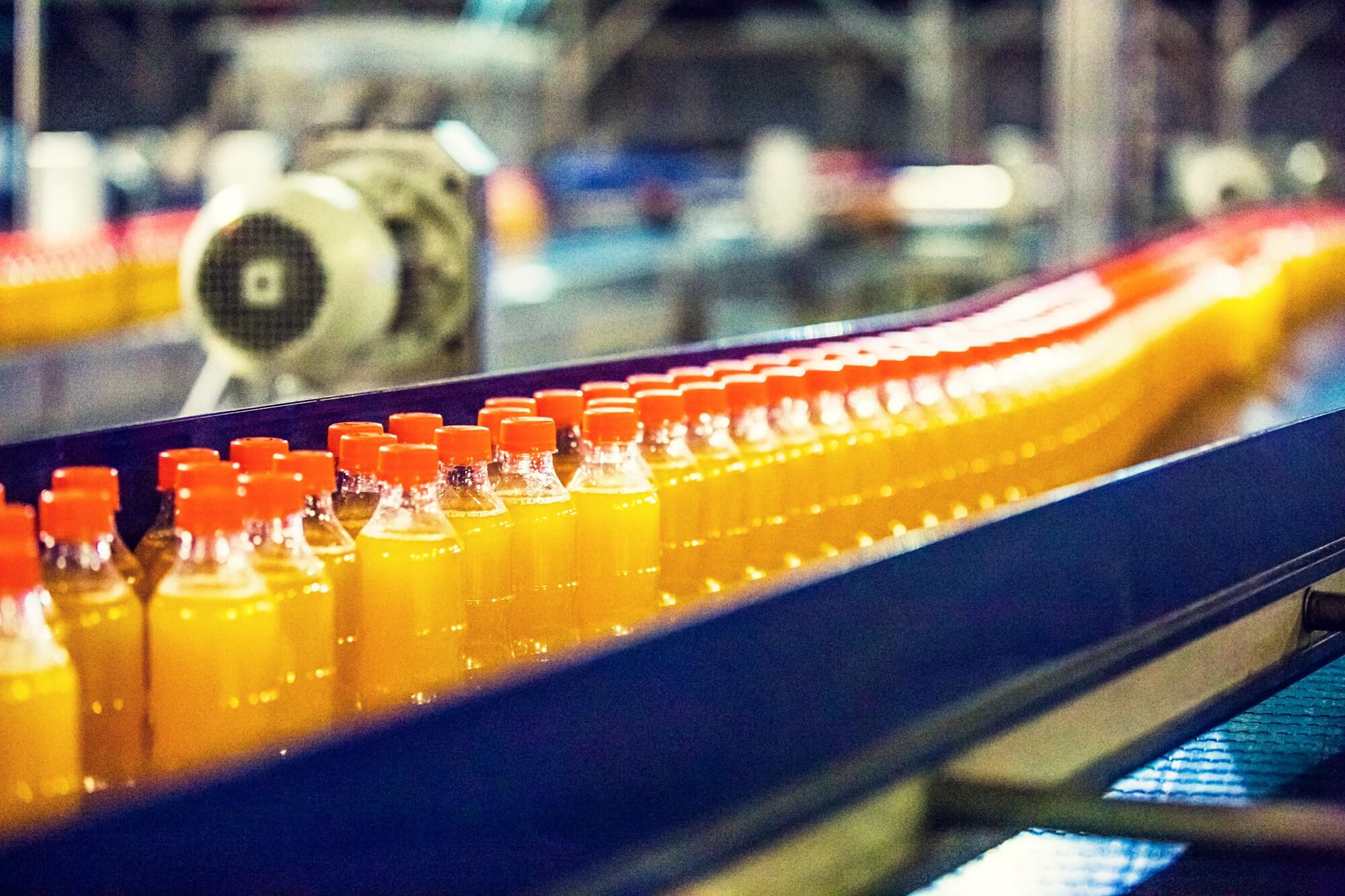 The evolution of the beverage industry, on a global scale, is fast-paced. The continuous innovation in ingredients and technology is impressive; and its expansive growth continues unabated.   According to Grand View Research, Inc., projections for the nonalcoholic beverage market should skyrocket to USD 1.60 trillion by the year 2025; and functional beverages are a big, contributing factor.  
The question was asked, "Which of the following attributes are important to you when purchasing nutritional or performance drinks or mixes?"  The results were interesting.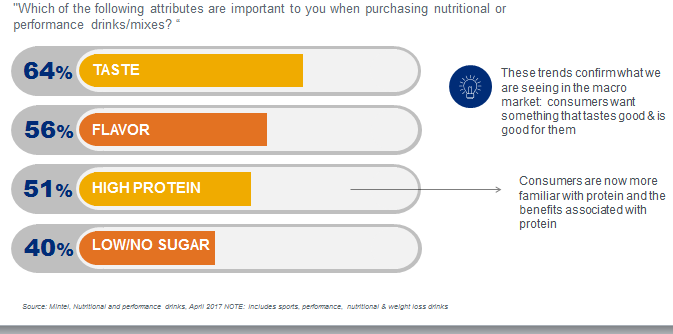 Well-educated consumers have become passionate about their health and the health of their families.  Consumer-demand dictates value-packed, flavorful, high-quality drinks and mixes, within the functional beverage market.  The other side of the same coin is the clean-label market that partners with the nutritional component.
Clean Label 
Consumers are increasingly interested in trust and transparency with the brands they support, which requires ingredient statements that are succinct and easier to understand.  Glanbia Nutritionals' portfolio of functional, clean-label ingredients meets that demand.  Consumers are wary of ingredients that cannot be pronounced, much less understood – clean label has made its mark and is here to stay!  Clean label is becoming a beverage-industry standard where the focus is on ingredients that are organic, hormone-free, antibiotic-free and GMO-free. 
Manufacturers view this healthy consumer trend as an ideal opportunity to position their products as simpler, cleaner and healthier.  Our clean-label solutions allow manufacturers to not only deliver straight-forward ingredient labels, but also add functional and nutritional attributes which transform good products into great products.
 
A few statistics speak for themselves regarding a 2017 MarketsandMarkets report: 
75% of US consumers claim to read the nutritional and ingredient labels of food products.
73% of US consumers believe it is important to recognize most names on a product's ingredient list.
The clean-label-ingredients market is estimated at USD 32.10 billion for 2016.  It is projected to have a CAGR of 6.60% through 2022 which would translate into USD 47.10 billion.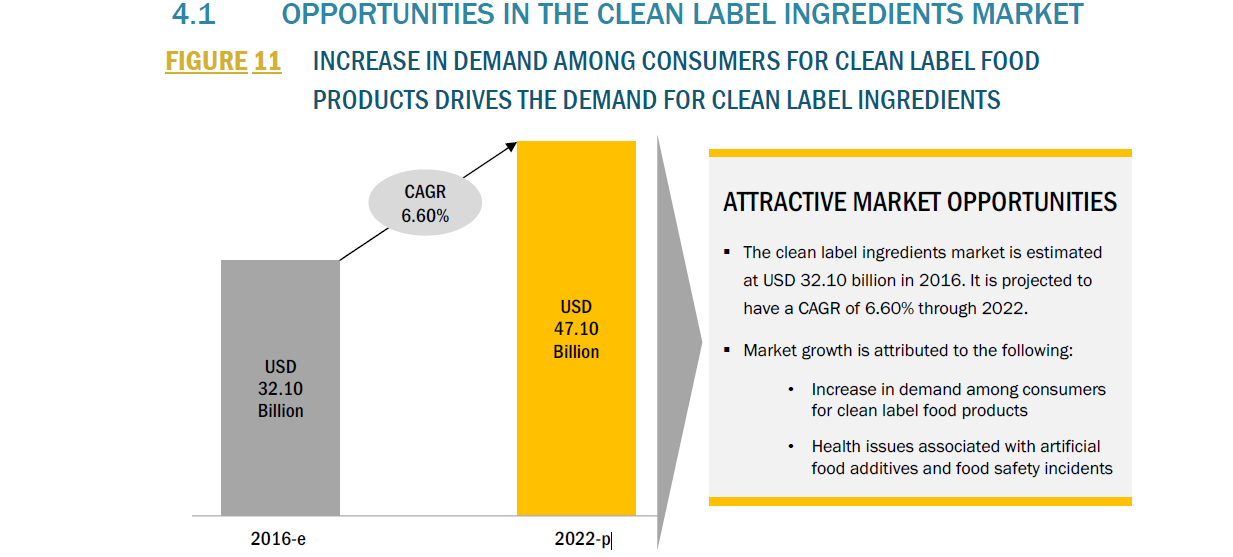 The factors that will continue to propel the clean-label market are increased consumer demand for clean-label food products and health issues associated with artificial additives and food safety incidents. 
We understand first hand that shifting to clean label has its challenges since it entails an array of formulation and processing hurdles including maintaining or enhancing texture, taste, nutritional value, product quality and more.  Because of this, Glanbia has developed a unique portfolio of dairy, flax, and chia based clean-label solutions that formulate easily into a wide variety of applications. 
It is not uncommon for just one of our clean-label solutions to replace multiple, traditional ingredients.  This results in a shorter, consumer-friendly content list with ingredients that are quick to read and easy to understand.  Also, many ingredients offer a multitude of benefits to the finished product, both, functionally and nutritionally.  As a result, with a shortened ingredient list and enhanced marketability, it becomes a win-win situation.     
 
Sports Drinks as Functional Beverages
The functional beverage market is made up of a wide-variety sub-markets: energy drinks, sports drinks, sports protein drinks, functional water, functional dairy beverages, functional juices – the list goes on.  Projected sales for functional-beverages are seen as robust since this niche market strongly appeals to all health-conscious consumers, including aging Baby-Boomers and millennials.
More specifically, functional energy beverages are attracting sports-minded individuals who are interested in nutrient sources that provide instant energy and aid in the growth and strengthening of muscle tissue.  The inclusion of amino-acids as functional ingredients in sports drinks is part of a rapidly-expanding market.  Branched-chain amino-acids and essential amino-acids are known to increase muscle strength and mass and promote significant increase in protein balance.  
A 2017 report from Euromonitor states, Sport Protein drinks was 2.3%, $90M of functional RTDs, and expected to reach $150M by 2022. 
 
GN Beverage Innovation
As a result of these shifts in the market, we have been evolving and innovating. One of the results is a clean-label, plant-based, powdered pea protein – BevEdge Pea Protein – which utilizes pioneering, patent-pending technology, known as BevEdge.  This product is entirely lecithin-free and provides outstanding qualities:  
instant particle dispersion offers optimal plant-protein nutrition
easy-to-flavor neutral taste allows for superior flavor that is difficult to achieve with conventional pea protein
dissolving in water is instantaneous –  traditional pea protein can clump, float and ineffectively disperse 
Glanbia RTD Solutions
Beverages are defined by their pH targets.  Glanbia's protein ingredients are classified by optimal pH functionality.  Optimal protein targets are between 10-20g of protein.
Truly Grass Fed™ Dairy Proteins
BevWise® Protein Systems
OptiSol® 1000 Series
BevEdge™ Pea Protein/Organic
HarvestPro™ Pea Protein
BEVWISE SUITE
BevWise is a preacidified protein range
BevWise range dependent on pH of Beverage.  
BevWise A-100W and BevWise A-120W are suitable for high acid clear protein applications
BevWise I-300W is suitable for intermediate pH juices
OPTISOL SUITE
OptiSol Series is designed  for dairy applications and dairy beverages
OptiSol 1024 and OptiSol 1042  are the most suited  for yogurt smoothies
OptiSol 1031 can withstand UHT temperatures
OptiSol 1007 is a heat stable ingredient for neutral pH shelf stable beverages
TRULY GRASS FED
Range of Whey and Milk Proteins out of Ireland
Non GMO Project Verified
95% Grass Fed Certified
Positioned for neutral pH beverages
GRAINS/SEEDS
BevGrad® Oats GF
BevGrad® Quinoa
BevGrad® Chia White
BevGrad® XtraSmooth Flax
BevGrad® XtraThick Flax
BIOACTIVES
AminoBlast ™
PepForm (Leucine, BCAA, Tryptophan, Citrulline)
TruCal®- D7
Bioferrin
MenaQ7
Carnipure
Vitacholine
ActiNos
 
Suppliers & Manufacturers – Give the People What They Want
Suppliers & manufacturers of functional drinks are keenly aware of consumers clamoring for beverage ingredients that deliver far more than the fundamental objective – i.e., refreshment.  It's all about adding nutritional ingredients that contribute to real health benefits. 
The latest industry developments in the growing markets of clean label, functional beverages is noteworthy.  Our focus has been delivering beverage ingredients that support a benefit-driven message that consumers understand, trust and embrace. Speak to a representative today to learn more about how we can help grow your brand.