What Caught Our Eye at IFT First in Chicago
Check out the top trends at IFT First Chicago 2022 and our recap of this year's reinvention of the most important global food technologists trade show. 
Highlights:
Some of the top trends at IFT First 2022 include:
Innovations in plant proteins
Alternative sweeteners
New indulgent experiences 
---
Recap of IFT First 2022 
IFT First (the new name for the show traditionally called the IFT Annual Meeting and Food Expo) brought the food & beverage industry together again to showcase healthy ingredients and discuss the latest trends. The Institute of Food Technologists (IFT) is an organization supporting the advancement of the science of food and its application across the global food system.  This was the first live version of the annual IFT First event since 2019. The event had the flavor of a large low-key reunion attracting a reported 15,000 attendees and 800 exhibitors coming together to collaborate, share, learn and network.
Top Trends We Saw at IFT FIRST 2022 
1. Plant Protein Proliferates
While not a new trend, there was a noticeable improvement in many of the multitude of plant-based applications at IFT First 2022. While the Glanbia Nutritionals booth featured Simpleat Plant-based deli slices with the taste and texture and clean ingredient statement meeting the needs of the consumer desire for better meat alternatives, there were also excellent tasting algal protein applications from Triton Algae Innovations. 
Fava beans seemed to be up-and-coming as exemplified by Beneo highlighting its fava bean protein concentrate alongside a starch-rich flour. While having a creamy mild taste in formulations, fava beans fix nitrogen from the air, which reduces fertilizer requirements and helps to cut greenhouse gas emissions at the farm level. Another indication of growing interest in fava bean protein is from the company Top Health Ingredients. AdvantaFava is a new "textured protein ingredient" to add crunch to food. The key to these applications was realizing great taste is a main requirement, in addition to functionality and providing support to a more nutritious, healthier product.
2. Sugar Reduction 
Again the trend is not new but the execution is better. Sugar reduction is a difficult goal as consumers do not want to sacrifice flavor. Additionally, they are concerned about the negative aspects of alternative sweeteners. Allulose is trending as a sweetener, but it is very geography-limited due to regulations. Samyang Corporation is trying to change that and announced at IFT First a new consortium called the Allulose Novel Food Consortium (ANFC) to support labeling allulose as a carbohydrate. 
As well, the search for a perfect Stevia continues and there was a plethora of other sweetener alternatives to sugar and high fructose corn syrup. 
3. Indulgence/ Experiential Eating
Much has been written and shared on social media about permissible indulgence. With this in mind, Blommer took the opportunity to highlight a reduced sugar chocolate that had half the calories but matched traditional chocolate taste and texture. In the beverage world, Deluxe Candy Company had "popping boba" that can be added to beverages, snacks, desserts, cocktails, etc. Their mango flavored boba tea offered a delightful burst of flavor. 
Poppin Fun sampled their sweet and savory carbonated crystals on applesauce. The cinnamon sugar poppin' rocks were a hit while the tahini version didn't have the same fanfare.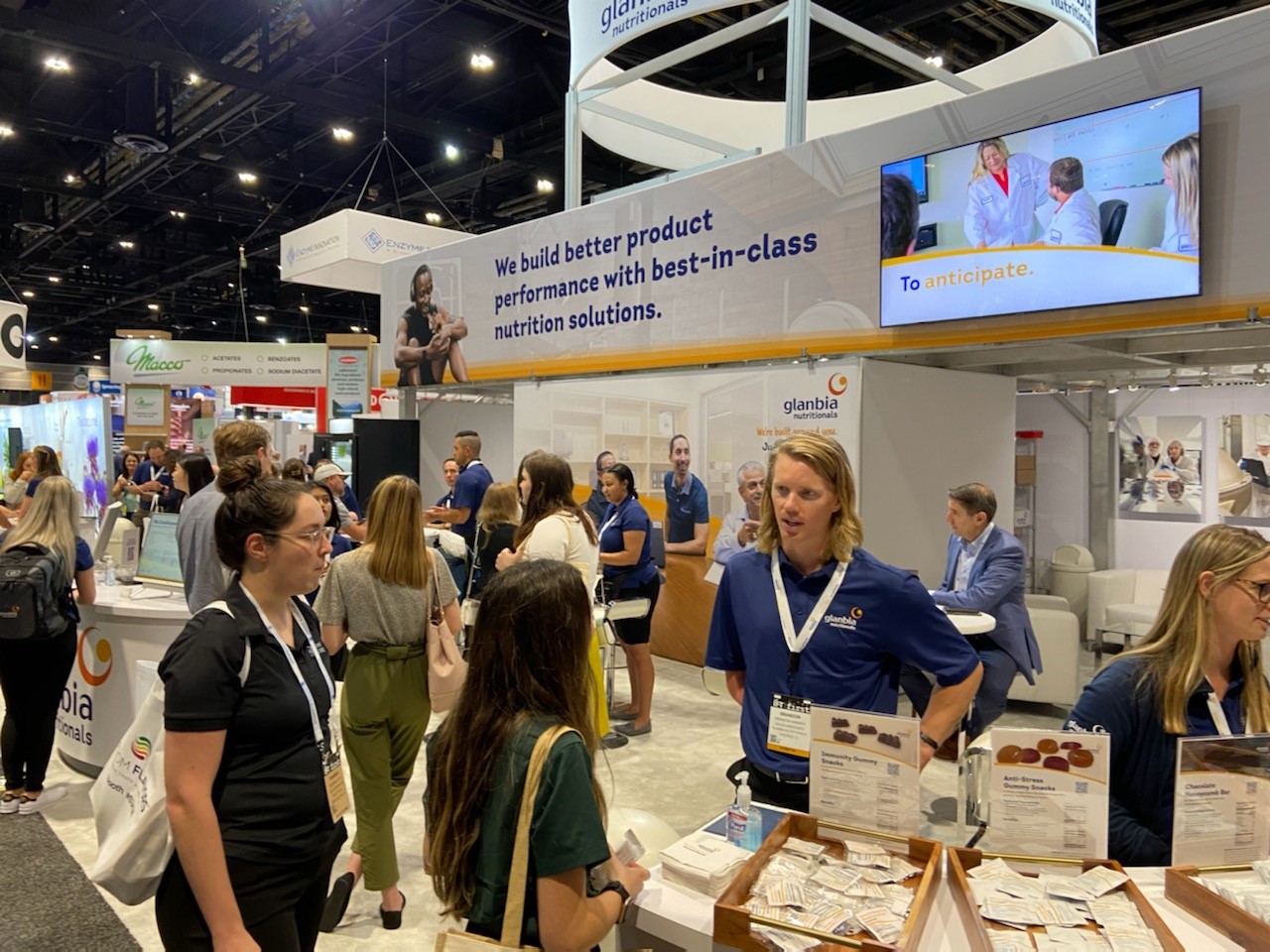 Presentations/Educational Sessions That Resonated 
"Should We Eat More Processed Foods?"  the first keynote of the show featured advocates who believed processed foods are the way to not just feed but nourish the growing global population. With 8 billion humans today, projected to reach 10 billion by 2050, this presents a challenge for all regions. Dissenters counter that processed foods are likely to be less nutritious and often are detrimental to overall health. With a keynote slot, it's clear this topic will continue to drive innovation and conversation in the industry. 
Tom Vierhile of Innova Market Resarch defined the three trends in Snacking in his presentation, Snacking in the United States:
More at home
Balancing health & indulgence
More adventure & exotic flavors.
The key to leveraging these trends is balancing indulgence with better-for-you while always leading with snacks that taste great. Functional benefits should support cognitive, as well as physical health. The future is all about balance. Verhile also mentioned the typical consumer wants plant-based snacks, but those snacks are often are not meeting their taste desires. This is yet another area ripe for innovation. 
See you in Chicago in 2023 
We hope you got the chance to attend IFT First 2022, but if not, you can catch up with us at the next show. We'd love to discuss your next project and share our insights on ingredient trends that can help make your product a success. 
If you weren't able to stop by our booth, you can learn more about some of the ingredients we featured in our samples including Simpleat, NutraShield microencapsulated Ashwaganda and BarHarvest 900 in our Chocolate Honeycomb bar concept,. Our healthy ingredients can provide the perfect solution to help your food, beverage or supplement product succeed in the marketplace. Contact us today to learn more or sign up for our newsletter below to find where we'll be next. .