Health & Vitality Functional Beverage Solutions
Functional beverages play a vital role in our quest for health and vitality.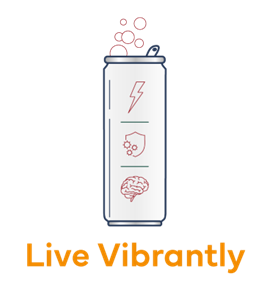 Today's beverage landscape is changing.
62% of consumers say that beverages play a very important role in their overall health and wellness.¹ Beverages have always been a staple for a range of occasions, and today's beverage landscape is changing. From supporting health and immunity to improving mood to boosting energy, we're asking beverages to do more than just hydrate. And while we're asking for more of these "functional beverages" to help us in our quest for health and vitality, we're also asking them to include less, as in less sugar and less of the artificial stuff. It's a tall order, but fortunately with the right partner, today's functional beverages can stand up to the challenge.
There are several factors driving the popularity around the growing $50 billion⁵ US functional beverage market, including: 
Consumers would like their food and beverages to contribute to both their mental and physical health.²
Many are replacing conventional soda for better-for-you functional drinks. According to Hartman Group, 60% of consumers are trying to reduce or avoid conventional soda.³
The 'sober curious' lifestyle is also making its way into the mainstream with nearly 40% of US consumers closely or occasionally following it largely for physical and mental health reasons.⁴
Hydration is the #1 need state that beverages solve.
There are a number of reasons why people drink, but hydration is #1.⁷ While plain water may seem like an obvious choice, it can feel boring among a sea of other options. 'Hydration drinks' on the market typically include sports/electrolyte drinks and vitamin waters. Electrolyte drinks offer better hydration than water alone by enhancing water absorption and retention and replacing electrolytes lost due to sweating. Research is also showing that the addition of amino acids can enhance hydration,⁶ so we're seeing ingredients like glutamine added to electrolyte powders.
Although hydration is the #1 need state that beverages solve, energy is up there as well as other functional benefits like immunity and brain health.⁷ We're going to dive into each of these additional consumer beverage need states next.
Energy drinks are evolving and diversifying to meet more needs.
Energy drinks continue to make up the largest share (~36%) of the US functional beverage market⁵ and are not showing any sign of slowdown. While energy drinks have traditionally been marketed to a relatively narrow segment of consumers, such as teenagers and young adults, they are evolving and diversifying to meet more needs. These needs include both physical and mental ones, thus expanding the consumer base of energy drinks and changing perceptions. As a result of this larger, more diverse audience, trends in the category include flavor innovation and cleaner formulations that contain less sugar and natural ingredients. Additionally, there is a blurring of lines between energy and other beverage segments as energy drinks continue to add ingredients like protein, as well as ones that boost cognitive and immune health. 
Consumers are focused on immunity and looking to functional beverages for immune support.
In addition to energy, consumers are interested in beverages that provide immune support. 34% of US adults agree that the pandemic has made them more stressed about getting sick, and 80% of US consumers are interested in using food/drink products for immune system support during future illness seasons.⁸ Optimal hydration helps keep the immune system functioning at its best, and it's no wonder that consumers are looking to functional beverages to boost their immune health with ingredients like zinc, iodine, selenium and protein. There is also an important link between gut health and the immune system, as any imbalance in the gut microbiome affects the immune system and vice versa. Brands can look at probiotics, prebiotics, and postbiotics to strengthen the immune system via the gut. 
Consumers will increasingly turn to beverages that support cognition, manage stress and improve brain function as familiarity grows.
Another important space to explore in regards to functional beverages is brain health, including areas of focus, sleep, cognition, and mood. Brands should start with nutrients that consumers know and feel safe with, as experimenting with novel brain-boosting ingredients will take time and trust. Consumers are interested in this area of functionality and report that they would like their diet to improve their mood and help maintain healthy brain function.¹² It's clear that they already consume beverages throughout the day to manage their alertness and focus.⁹ Common brain-boosting ingredients to watch include natural caffeine, B vitamins, choline, and adaptogens like ashwagandha. 
From enhanced hydration to energy to immunity to brain health, all areas of functional beverage innovation are truly exciting. However, it's important for brands to balance niche functionality with the basics. Consumers are attracted to what is familiar to them, so it's a good approach to combine known ingredients with lesser known ingredients and familiar flavors with less recognizable flavors. Flavor and function must also work together. Over 40% of consumers say they are more likely to try a new drink based on appealing flavor than functional benefits¹⁰, but 30% of consumers also say that drinks featuring appealing functional claims have driven them to try new flavors.¹¹ 
It can be challenging to stand out in this exciting area of functional beverages, but with the right partner, it can be done. From flavors to protein to caffeine to vitamins and minerals and an array of other ingredients, Glanbia Nutritionals has the ingredient and formulation expertise to help you build the ideal functional beverage portfolio. On this quest for health and vitality, we know how important it is to keep your consumer's glass half-full.
---
1. The Hartman Group, Modern Beverage Culture study, 2018.  
2. Mintel, The Future of Health and Wellness, 2023.  
3. Hartman Group, Gut Check: A new soda occasion?, May 2023.  
4. PR Newswire website/Mintel, Nearly 4 in 10 US consumers closely or occasionally follow a sober curious lifestyle, June 2023.  
5. Euromonitor Feb 2022 – data ending 2021.  
6. https://nutritionj.biomedcentral.com/articles/10.1186/1475-2891-13-47.  
7. Mintel Functional Drinks US 2021.  
8. Mintel, Supporting immune health for the next normal, September 2022.  
9. Glanbia Nutritionals Healthy Snacking U&A, 2022.  
10. Mintel, Functional Drinks, US, 2023.  
11. BeverageDaily.com, Function AND flavor: Intriguing flavors can influence functional beverage purchases, May 2023.  
12. Mintel, Ingredients to watch: "Staying Sharp," April 2023.